The fifth "cruise of the red and blue hart" starts this year in Amsterdam, because 15 years ago the European adventure of Genoa ended in Amsterdam. The big cruiseship MSC Rhapsody leaves the port of IJmuiden (near Amsterdam) at Friday 31st August to visit Dover, St. Malo, La Coruna, Lissabon, Cadice, Barcelona, Marseille and finally to return in Genova on Tuesday 11th September. On board of the ship are many famous Genoani and ex-players like Carlos (Pato) Aguilera, who scored twice against Ajax, and Tomas Skuhravy.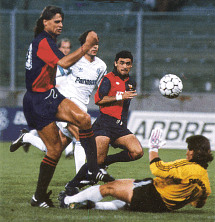 Tomas Skuhravy and Carlos (Pato) Aguilera
Thursday-evening 30th August 200 Genoa-fans and the 2 ex-players visit on invitation of Genoa Club Amsterdam the Amsterdam Arena Stadium for a stadiumtour and a visit of Ajax-museum. Also our member of honour John van 't Schip is invited. More news and foto's in a few days on this site.