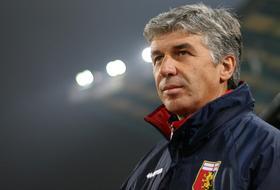 The fans of Genoa Club Amsterdam have chosen Mr. Gasperini as Genoano of the year 2006-2007. There are many reasons to honour our 49 years old coach as most important Genoano of last season. Of course he brought us back in Serie A and he surely always is a real gentlemen, but most of all he is an Italian trainer with Dutch, or even better, Amsterdam minds. He always thinks offensive and his most favorite tactical-system is 3-4-3. It's the system of the 3 most successful Dutch coaches of all times: Rinus Michels, Johan Cruijff and Louis van Gaal.
All 3 were born in Amsterdam and started their career as coach of Ajax (they won together 4 European Cups and 7 Dutch titles) and then went to F.C. Barcelona (to win together 2 European Cups and 7 Spanish titles), while Rinus Michels also was the coach of the winning national team of Holland during the European Championship in 1988. Our Mr. Gasperini has the same way of thinking as the 3 musketeers of Holland and all 4 of them use the same lyrics like: "attacking is the best defense" and "if we have the ball the opponent can't score". Their way of thinking brings a lot of succes and must be honoured in these hard years of modern, defensive and calculated football. Let's hope Mr. Gasperini can bring us the 10th scudetto in the next years to be forever the man that gave us our star!   
We hope to hand over our trophy to Mr. Gasperini next Saturday at the Pegli trainingfield.