Two teams that played to win, 6 goals and a fantastic atmosphere. Almost a perfect game, but unfortunately Genoa only got 1 point at the end. Of course Palermo deserved a point, but Genoa had to get at least the other 2 points.
The first 30 minutes Palermo was the best team in the field. In the 8th minute they took the lead by a goal of Cavani and the Sicilians also got some other chances to score. After 30 minutes the match changed and Genoa was the boss in the field, but till halftime referee Gervasoni (Borriello deserved a penalty) and keeper Fontana saved Palermo.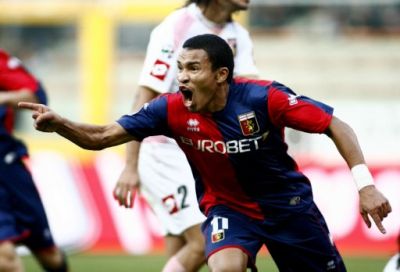 In the second half Leon scored twice in the 59th (fantastic free-kick) and 67th minute, giving Genoa a 2-1 lead. The joy lasted only 9 minutes because in the 76th minute Brienza scored 2-2. Only 6 minutes later our topscorer Marco Borriello gave Genoa again an advantage: 3-2. Of course we all hoped this was the last goal of the match, but in the 91st minute Amauri again scored the equalizer with his head after a great error of the whole defense of Genoa. Milanetto could not score the last chance of the match, so the 3-3 stayed on the scoreboard. A good result if you think about the first 30 minutes of the match, not enough seeing the last hour, but the real winner of this match: the public !
[youtube 7UpGYLJvwwA]