Yesterday was a bad day for Genoa, a black day for Italian football and a nightmare for the family and friends of 26 years old Lazio-fan Gabriele Sandri who died by accident by a policeman. The fans in Milano (Inter-Lazio), Bergamo (Atalanta-Milan) and Roma (A.S. Roma-Cagliari) went completely crazy after the news of the killed supporter, so none of these 3 games was played.
Genoa played one of the most bad games of the season. In the 79th minute our best player Marco di Vaio headed the ball against the post and 1 minute later Joelson doubled the score in 2-0: game over.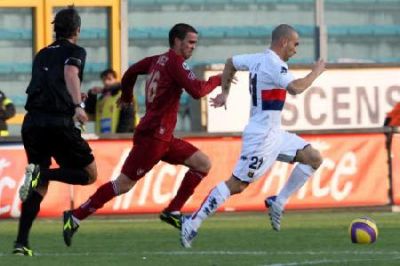 Because of the national teams next week there is no Serie A, but because of the violence yesterday there is also a stop in Serie B and Serie C. Let's hope one week later Genoa-Roma will be played regulary, because just like in February after the dead of policeman Raciti we already booked our flight for next week's match.
[youtube teEVbZFW_tY]