Again a new player in the team of Genoa, after Criscito now Mr. Enrico Preziosi bought 19 years old wing-player Matias Masiero of Central Espanol di Montevideo (Uruguay).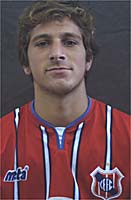 Matias Masiero, 1.76 high and 70 kilos.
Tomorrow Genoa plays a friendly match in maybe the most beautiful city of Toscany: Lucca against their local Serie C-1 team: Lucchese. Genoa surely misses Rossi and Borriello (both in bed with influenza), Papa Waigo (Afrika-cup) and injured Bega and Danilo. Mr. Gasperini already wants the 2 new players Criscito and Masiero to play, while he left Coppola and Di Vaio out of his 18-players selection. Should the two friends leave Genoa in a short time ?