The last victory of Genoa in Rome against Lazio was on 11th January 1959. Today, exactly 49 years and 2 days later, Genoa beat Lazio again by 1-2.
Mr. Gasperini again suprised everybody by starting with De Rosa and Milanetto in the line-up in stead of Santos and Paro, 2 of the best players in the last match of 2007 against Parma. But as often Mr. Gasperini was right with his tactical substitutions. In the first half both teams were equal, but in the 23rd minute Lazio scored the first goal after a mistake of Rubinho in the air: 1-0.
After half-time it was Genoa that was the boss in the field to score the equalizer. In the 51st minute Omar Milanetto was hit softly by a defender, but referee Stefanini decided to give us a penalty which Borriello scored: 1-1. Within 4 minutes Borriello doubled his and Genoa's production by heading a perfect free-kick of Milanetto behind Ballotta: 1-2.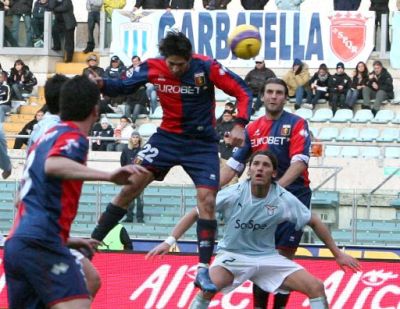 In the last 39 minutes Genoa had a lot of chances to decide the match definitively, but till the last 94th minute we had to suffer. But us Genoani have a great suffering history, which helped us this time to beat Lazio in Rome after 49 years. Mille grazie ragazzi !!