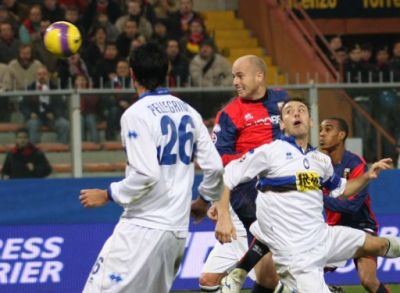 In a fantastic match Genoa booked the 3rd victory in a row, just as in the beginning of the championship. Honestly, Atalanta deserved at least a draw because the Lombardian team hit the post 3 times and their second goal was annulated, but that's football and if there is one team which is hardly never lucky it is our Genoa.
Genoa started the match with the expected team: Fabiano returned in midfield and Marco Rossi substituted injured Leon as right-forward. In the first half an hour Atalanta was the boss in the field, but luckily for us they only hit the post twice. After 30 minutes Gasperini changed the tactics and the following 15 minutes Genoa was the best team in the field, but the score halfway stayed 0-0.
After 22 minutes in the second half Konko did not stop Floccari regulary, so referee Pierpaoli whistled a penalty. Doni scored from the penaltyspot: 0-1. In the 72nd minute everything looked over to Genoa, but the second Atalanta goal of Floccari was annulated because of off-side. One minute later topscorer Marco Borriello scored his 11th goal of the season: 1-1. In a fantastic atmosphere Genoa was not satisfied with a draw and in the 84th minute substitute Lucho Figueroa headed a corner near the second post inside the goal: 2-1. In the last 11 minutes Atalanta did everything to score the equalizer but all they got was another bal on the post of Muslimovic and a red card to trainer Del Neri because of protests. The score did not change anymore: 2-1, so Genoa ends the first half of the season with 25 points.