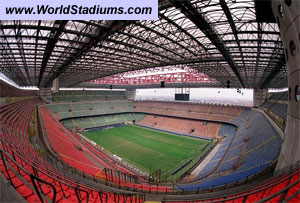 Genoa-coach Gian Piero Gasperini has defensive problems for tomorrow's match against Worldchampions A.C. Milan. Domenico Criscito is banned because of his 4th yellow card, Andrea Masiello was sold this week to Bari while Cicco Bega and Gaetano de Rosa are injured. Only 4 defenders are left in the selection of 18 players:
goalkeepers: Rubinho, Scarpi 
defenders: Bovo, Ghinassi, Lucarelli, Santos
midfielders: Danilo, Fabiano, Juric, Konko, Masiero, Milanetto, Pato, Rossi, Vanden Borre
strikers: Borriello, Figueroa, Sculli
Besides the defensive problems, also the strikers Leon and Wilson are not healthy enough to play tomorrow in the biggest stadium of Italy. Because of the rivalty between Genoa- and Milanfans it is forbidden to Genoani to visit the match.