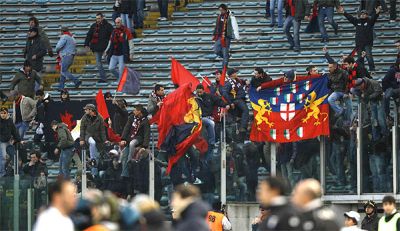 Genoa coach Gian Piero Gasperini won't feel alone tomorrow in Livorno. Our very friendly coach selected 22 of his total 24 players to go to Livorno, which means that 4 of them have to watch the match in the stadium tomorrow. Only 3rd goalkeeper Lanza and Brasilian striker Wilson (injured) are not selected. The 22 players:
Goalkeepers: Rubinho, Scarpi
Defenders: Bovo, Criscito, De Rosa, Ghinassi, Konko, Lucarelli, Santos
Midfielders: Danilo, Fabiano, Juric, Masiero, Milanetto, Paro, Rossi, Vanden Borre
Strikers: Borriello, Di Vaio, Figueroa, Leon, Sculli    
Around 2500 Genoa-supporters travel 187 kilometers on the A-12 tomorrow to reach Livorno the team of old-Genoa president Spinelli. Both Rubinho and Sculli have to keep their minds cool, because a yellow card of referee Romeo means that they have to miss the derby next week.