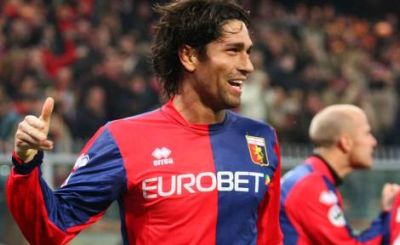 Roberto Donadoni might want to look into securing a permanent base in Genoa. The Italy manager has known since before the season started that he would need to pay close attention to Sampdoria's Antonio Cassano, who turned in another sumptuous performance during Samp's 1-1 draw with Inter. But Donadoni would not have expected to be devoting so much time to another striker playing his trade in the same stadium. With his second hat-trick of the season – both of them against Udinese – Genoa's Marco Borriello lifted Genoa to a 5-3 win yesterday, and himself to joint first in the Serie A scoring charts alongside David Trezeguet with 15 goals. It is by no means inconceivable that he will line up alongside Cassano for Italy at Euro 2008. Coming into 2007-08, Borriello was just another eterna promessa (eternal promise), a powerful forward with the physique, raw talent and model Wag befitting a world-class striker, but nothing like the end product. A product of the Milan youth system, he bounced back and forth between the San Siro subs' bench and loans at clubs from Triestina right up to Sampdoria, without ever finding his niche. His most productive year had come at Treviso in Serie C1 in 2001-2002, when he scored 10 goals in 27 games.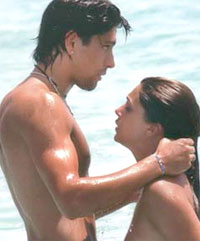 At 25 years old, Borriello already looked set to finish his career as little more than an "And finally" footnote in calcio history, after he was banned from football for three months for failing a drugs test – he had neglected to check the contents of an ointment his girlfriend, Belen Rodriguez, rubbed on his genitals after she gave him a sexually transmitted infection. Instead he has been reborn at Genoa, after il Grifone bought 50% of his rights from Milan. Effective as the central striker in Gian Piero Gasperini's 3-4-3, he has been arguably even more effective when the manager adjusts to 4-4-1-1 as in both games against Udinese. At just over 6ft tall and with broad shoulders he is a potent target man, while a pair of scars on his otherwise model features hint at a natural aggression. Last season, while on loan at Sampdoria, he caused two would-be muggers to turn and flee after flying into a rage when they tried to steal his watch as he took a stroll in the Albaro district in Genoa.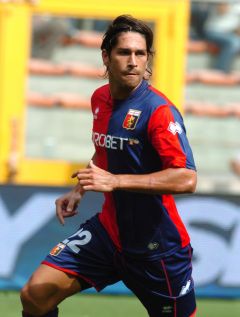 Borriello made his Italy debut earlier this month, becoming the first Genoa player to turn out for the Azzurri in almost 17 years when he replaced Luca Toni during the 3-1 win over Portugal. Already he is being discussed by a typically understated Italian press as Toni's natural heir and, although that is taking things too far, his goals yesterday reflected an impressively complete natural skill-set. If the first was the most technically impressive – Borriello chesting down a cross with his back to goal before controlling the ball with his left foot and then turning to thrash it past Samir Handanovic without letting it touch the ground – the second and third showed he can also be clinical, as he dispatched a low drive and diving header from inside the area with equal ease. "I preferred the third goal, in which you could see all the skills needed by a centre-forward, " crowed a modest Borriello afterwards. "The feint [to make room for himself to win the header], the counter-movement and then an acrobatic conclusion."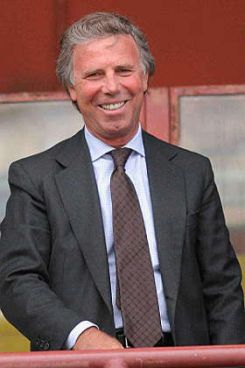 Minds in Genoa are already turning to how the club will hang on to such a player come the end of the season. There has been no indication that Milan want Borriello back – the Rossoneri having been linked instead to a number of high-profile strikers from Didier Drogba to Emmanuel Adebayor – but the terms of the deal made last summer mean they will set the price Genoa must match. Just like Cassano, who said this weekend that he would accept a 20% pay cut to make his move to Samp permanent this summer, Borriello wants to stay put, but he knows Genoa may not be able to afford him. For the past six months he has been living in a hotel in the city, and until a permanent deal is signed, he has no intention of selling his place in Milan. "Definitely I want to stay, but with every goal my asking price rises and I don't know if (Genoa president Enrico) Preziosi can break the bank to buy the other half, " acknowledged Borriello after yesterday's game. "He tells me he can and I believe him." Preziosi will doubtless do his best to keep hold of a player who has become the figurehead of a team who have gone from relegation candidates to European contenders in a matter of weeks. Genoa staggered through nine games without a win after losing to Juventus on October 21, and Gasperini's job was reported to be on the line before a 1-0 win over Parma in the last game before the winter break. Since the break Genoa have won four and drawn one of the seven games they have played, and now sit eighth, just four points behind Udinese who occupy the final Uefa Cup spot. Gasperini admitted after the game that the club may now have to raise their sights from the previous objective of simply avoiding.
Many thanks to Genoa-supporter Pedro to find this article !!!