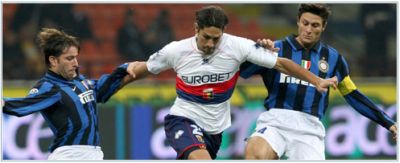 The trainers of Genoa (Gasperini) and Inter (Mancini) selected 41 players for tomorrow-nights topmatch in Serie A between the two teams that did win together 24 Italian championships. Over 27.000 people will be in the stadium, most of them hoping that Genoa can surprise Inter just like Napoli did 2 weeks ago. The rumours say that Lucho Figueroa plays in the team of Genoa because mr. Gasperini wants to give Borriello some rest. The 41 players – including Wilson for the first time – selected to play tomorrow:
GENOA 
Goalkeepers: Lanza, Scarpi.
Defenders: Criscito, De Rosa, Ghinassi, Konko, Lucarelli, Rossi, Santos.
Midfielders: Danilo, Fabiano, Juric, Masiero, Milanetto, Raggio Garibaldi, Vanden Borre.
Forwards: Di Vaio, Borriello, Figueroa, Sculli, Wilson.
 
INTER 
Goalkeepers:  Toldo, Julio Cesar, Orlandoni.
Defenders: Zanetti, Maxwell, Maicon, Burdisso, Rivas, Chivu.
Midfielders: Jimenez, Vieira, Cambiasso, Solari, Maniche, Pelè.
Forwards: Ibrahimovic, Cruz, Crespo, Suazo, Balotelli.