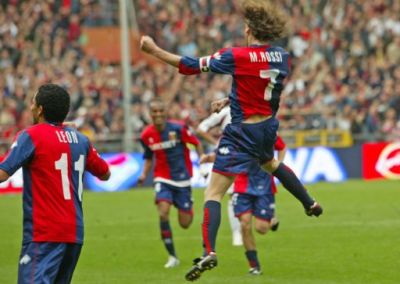 Again a victory that brings our number of points on 42, which means that Genoa also next year plays in Serie A. A fantastic result 7 matches before the end of the season. With the returned Rubinho, Bovo, Di Vaio and Borriello in the line-up Genoa played a good match that was decided in the second half by goals of Borriello and Rossi.
In the 59th minute a shot of Marco Rossi 5 meters outside the penalty-area was blocked by goalkeeper Campagnolo, but towards Marco Borriello which meant his 18th goal of the season. With 18 goals he shares, 7 matches before the end of the season, the clubrecord with Roberto Pruzzo in the year 1976-1977 as most scoring Genoa-player in a Serie A season. The next weeks Super Marco has the possibility to be Genoa's clubrecord holder and to resist being the first topscorer of Genoa in Serie A ever.
It lasted till the 92nd minute to score the second and deciding goal. A cross of Fabiano gave Marco Rossi the opportunity to score his first Genoa Serie-A goal in his 100th match in Serie A (18 with Salernitana, 36 with Fiorentina, 19 with Como and today his 27th with Genoa). A great end of a good match which brought our 11th victory this season.