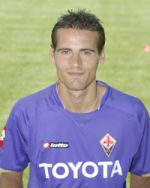 It is almost sure that Genoa found a substitute to Abdoulay Konko: the 24 years old defender of Fiorentina, Alessandro Potenza. The young defender is raised in the youth of Inter and was rent to Ancona, Parma, Chievo (all in Serie A) and Real Mallorca (Spain) before he was transfered to Fiorentina in the summer of 2006. The last 2 seasons he played 34 matches with the purple team and scored 1 goal. The former youth-international of Italy only has to pass the medical test before he is a Genoano.
In the meanwhile the transfer of Konko to Inter has stopped because Mr. Preziosi refused the offer of the Italian Champions and now it looks like Konko goes to Udinese. Also the transfer of Raffaele Palladino to Genoa probably failed, because after Juventus and Genoa finally had an agreement (including remaining of Matteo Paro and Domenico Criscito with Genoa) the talented striker refused the offer of Genoa. Will be continued..
After the 3-0 victory of Holland against Italy the whole country gets crazy and hope (and believe) that the Dutch can be European Champions again, 20 years after 1988. Only the owners of a living-ark in the Amsterdam canals don't like the idea of a new victory of Holland, which you can understand if you see the picture below of the party in 1988.