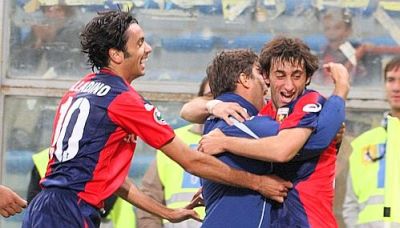 Last year Genoa played a fantastic first season in Serie A after 12 years in B and C-1, only a victory against at least one of the 4 big clubs (Inter, Roma, Juventus and Milan) failed. This season Genoa had to play the first 2 homematches against 2 teams of the big 4: Milan and Roma. A very difficult opening of the season also because Genoa has a lot of new players that have to learn the typical Dutch way of football of Mr. Gasperini, but we also have Diego Alberto Milito back in the team ….
As published on our website Tuesday Mr. Gasperini also selected the not completely recuperated Andrea Gasbarroni, the motor of Genoa against Milan. Everyone including coach Spaletti of Roma was surprised that Gasbarroni not only was inbetween the selection of 18 players, but also started in the line-up. Within 3 minutes the very fast and technical player sent a beautiful cross towards Giuseppe Sculli who surprised experienced defender Riise and goalkeeper Doni and scored the first goal. 
Of course Roma was awake after the goal and they honestly were the rest of the first half the best team in the field. In the 28th minute Daniele de Rossi scored the deserved equalizer by heading in a very dubious free-kick. Till half time Genoa saved the 1-1.
In the second half Genoa played a lot more pressure and did not longer walk back towards the own penalty-area if Roma attacked and so a very nice match on a high level with 2 equal teams was created. After 55 minutes Andrea Gasbarroni was substituted by Raffaele Palladino who showed why he is one of the biggest talents of Italy. In the 61st minute Milito scored the leading goal: 2-1 when he reacted perfectly on a header of Juric. As a real goalscorer Milito was at the right moment at the right place and he scored this difficult opportunity easily. Only 5 minutes later everyone thought that Panucci (again an ex-player of Genoa) scored the 2-2 equalizer but the goal was irregular annulated by the linesman because of off-side. Roma was frustated which was the sign to Palladino to dribble around Daniele de Rossi who kicked him and got his 2nd yellow, so red card. The match still was not played, but in the 87th minute a perfect cross of Palladino was scored by the Prince of Baires (Argentina): Diego Milito, again at the right place at the right moment: 3-1. The match now was over and Genoa booked the 2nd victory against a team of the big 4 and Milito is the topscorer of Serie A: 4 goals in only 3 matches.
[youtube H48Nqowij7o]