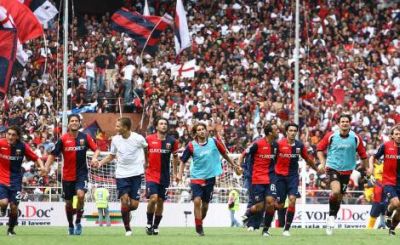 Tomorrownight playround 9 takes place with the match Genoa-Cagliari. Last year Genoa Club Amsterdam visited this match that was won by Genoa with goals of Borriello and Di Vaio (2-0). It brought Genoa on the 5th place in the standings with 12 points in 7 games. Now we are on the 8th position with 13 points in 8 matches and a new victory brings us again around the 5th place. Mr. Gasperini selected the following 18 players:
Goalkeepers: 83 Rubinho, 73 Scarpi
Defenders: 25 Biava, 26 Bocchetti, 4 Criscito, 13 Ferrari, 15 Sokratis, 3 Potenza
Midfielders: 29 Brivio, 20 Mesto, 8 Roman, 7 Rossi, 88 Thiago Motta, 68 Vanden Borre
Forwards: 18 Gasbarroni, 17 Jankovic, 22 Milito, 14 Sculli
Genoa misses Juric (banned) and Milanetto, Modesto, Olivera, Palladino, Paro (injury).