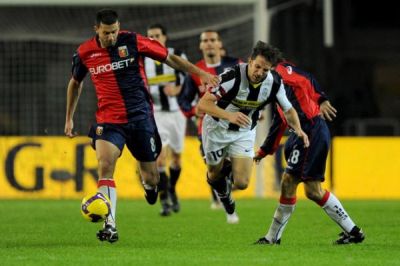 Both teams were equal and scored 3 times in the topmatch in Stadio Olimpico. Unfortunately a 100% regulary goal of Milito was annulated because of off-side and our Sokratis scored in his own goal, so we lost by 4-1.  
Mr. Gasperini started with Potenza and Gasbarroni in the line-up in stead of Sokratis and Sculli. We will never know if this was maybe the reason that Juventus started much more agressive than our red and blue boys. Already in the 6th minute Grygera scored the opening goal with a strong shot behind Rubinho. Now Genoa was awake and the rest of the first half Genoa was without any doubt the best team in the field. We created many chances, but Ferrari (header just over the goal), Gasbarroni (ball on the post) and 2 times Milito (just besides the goal + irregulary annulated goal) forgot to score and on the other side Amauri scored the only chance of Juventus in the first half: 2-0.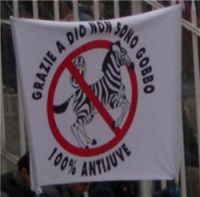 In the second half it was Genoa that started agressive and already in the 3rd minute Milito gave Raffaele Palladino the big chance to score 2-1, but our striker missed. After this big opportunity Juventus froze the match and it looked like it would end with 2-0, till Del Piero found Iaquinta in the 85th minute who scored 3-0. This was too much, but justice came within a few minutes when Legrottaglie played the ball with his hands (no yellow card of course) and Diego Milito again scored the penalty. Also the last goal was scored by Genoa, but substitute Sokratis chose the wrong goal: 4-1.