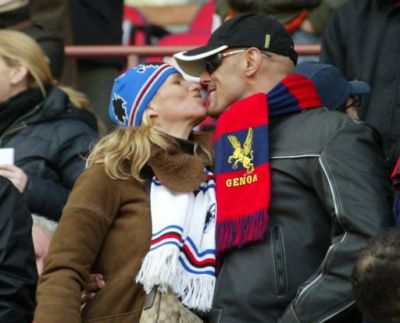 Tonight the 81st derby takes place in Luigi Ferraris and hopefully again a peaceful one, because this makes the lighthouse derby the most special in the world. Idiots like Antonio Cassano try to create a violent atmosphere by saying stupide things in the media, but let's hope the supporters of both teams have more brains than the ugly kid of Bari. 
Mr. Gasperini selected the following 20 players:
Goalkeepers: Scarpi, Rubinho
Defenders: Biava, Bocchetti, Criscito, Ferrari, Sokratis, Potenza
Midfielders: Brivio, Juric, Milanetto, Modesto, Rossi, Thiago Motta, Vanden Borre
Strikers: Jankovic, Milito, Olivera, Palladino, Sculli  
The following 8 players sure start in the line-up: Rubinho, Biava, Ferrari, Criscito, Thiago Motta, Juric, Milito and Sculli. The choice of the other 3 depends on the tactical system of Mr. Gasperini and his staff. Does he want to play with an extra defender (Sokratis), 3 or 4 midfieldplayers (Rossi, Milanetto, Van den Borre) and a real wingstriker (Palladino) or an offensive left midfieldplayer (Rossi) ? We all know it at 20.30 hours, Forza Genoa !