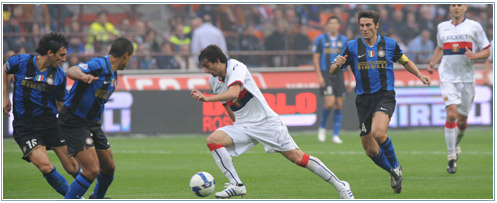 Tomorrow Genoa plays in the 1/8 finals of Coppa Italia against Inter. Our coach Mr. Gasperini don't want to take any risk with sligthly injured players, so Milito and Motta stay in Genova to prepare for the match Sunday in and against Lecce. The team that beat Fiorentina yesterday in Florence, so we are now 5th in the standings.
Mr. Gasperini selected the following 21 players for tomorrow:  
Goalkeepers: Lamanna, Rubinho, Scarpi
Defenders: Biava, Bocchetti, Criscito, Ferrari, Sokratis
Midfielders: Cofie, Juric, Mesto, Milanetto, Modesto, Roman, Rossi, Vanden Borre
Strikers: El Shaarawy, Jankovic, Lazarevic, Olivera, Sculli
The winner of Inter-Genoa plays Wednesday 21st January at home against A.S. Roma.