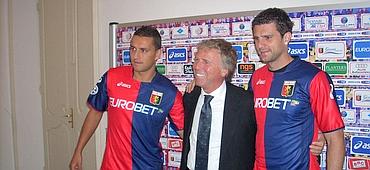 Mr. Gasperini has selected the following 19 players to play against Lecce:
Goalkeepers: Lamanna, Rubinho, Scarpi.
Defenders: Biava, Criscito, Ferrari, Sokratis, Signorini
Midfielders: Juric, Mesto, Milanetto, Modesto, Thiago Motta, Rossi, Vanden Borre
Strikers: El Shaarawy, Jankovic, Olivera, Sculli
Besides the 16 regular players, including the recovered Thiago Motta, Mr. Gasperini also selected the youngsters Lamanna, Signorini (son of the famous captain of Genoa in the past) and El Shaarawy. Unless the distance of 1090 kilometers 250 Genoa-fans will be present in Lecce in Stadio "Via del Mare".