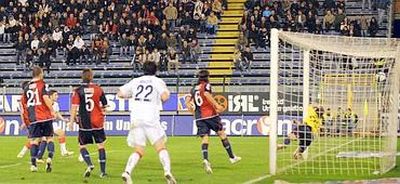 Genoa has won the important match to reach European Football against concurrent Cagliari by a late goal of Ruben Olivera in the 85th minute. Surely it was not the best match of the team of Mr. Gasperini, but we missed 3 experienced line-up players with Biava, Ferrari and Thiago Motta.
Genoa started with the young and expected 3 defenders: Sokratis (20), Bocchetti (22) and Criscito (22), while Milanetto substituted Thiago Motta as playmaker. At the beginning Cagliari was the best team in the field with a ball on the post, till referee Gervasoni helped Genoa (yes, it is possible this season) by giving Cossu his second yellow, so red card in the 38th minute. With 1 player more Genoa was the best team in the field and the Gasperini-boys created, but missed many chances. In the 65th minute Olivera finally scored, but the goal was irregulary annulated because of off-side. Six minutes before the end Diego Milito created himself a big chance that ended on the crossbar, but the frustation lasted only 1 minute when Olivera headed a great cross of Palladino behind goalkeeper Marchetti. After the goal our goalkeeper Rubinho had to make another great save to return after 35 years with 3 points to the aiport of Genova.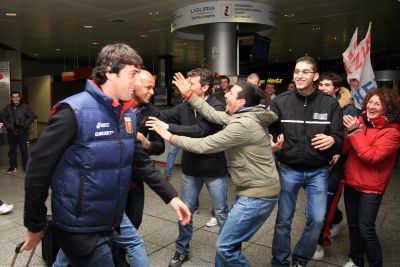 Because our 3 concurrents didn't win their match (Fiorentina and Lazio lost, Roma draw) Genoa now is 4th in the standings, 2 points ahead of Fiorentina and Roma.