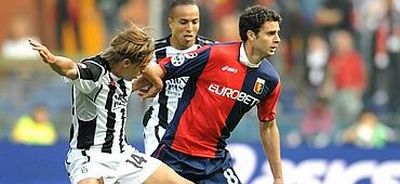 Tomorrow at the 30th playround of Serie A Genoa plays 1191 kilometers away in the deep South of Italy against the number last of the standings: Reggina. Despite the position of Reggina it will be a very difficult match, because Genoa did win only once (1972-1973) in the 14 played matches in Reggio Calabria. Our trainer Mr. Gasperini selected the following 19 players that will have the support of 400 Genoa-supporters who leave the Capital of Ligurië later tonight by several coaches and a special train:
Goalkeepers: Lamanna, Rubinho
Defenders: Biava, Bocchetti, Criscito, Ferrari, Sokratis
Midfielders: Costantini, Juric, Mesto, Milanetto, Modesto, Thiago Motta, Vanden Borre
Strikers: El Shaarawy, Jankovic, Olivera, Palladino, Sculli
Within the selection of 19 players are 3 youngsters: Lamanna, Constantini and El Shaarawy who misses the Primavera-derby tomorrow. Also Thiago Motta flew with the team towards Reggio Calabria but it still is dubious if the Brasilian can play tomorrow in the team that misses banned Marco Rossi and the injured: Scarpi, Paro and Milito.