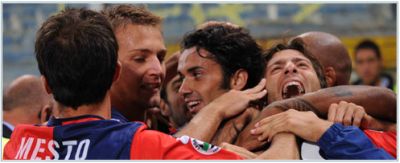 So far this season there are only a few matches that Genoa did not get the points they earned. The match with the most "wrong" result was in Rome against Lazio, that ended in a 1-1 draw. The annulation of the goal of Milito was one of the biggest mistakes of a linesman in Serie A this season and our Diego also missed a penalty this match. The late goal of Dabo was the biggest mistake of our improved goalkeeper Rubinho this year. Last year Genoa lost the match against Lazio in Luigi Ferraris, so now we have to take revenge.
Mr. Gasperini selected the following 18 players against Lazio:
Goalkeepers: Lamanna, Rubinho
Defenders: Biava, Bocchetti, Criscito, Ferrari, Sokratis
Midfielders: Juric, Mesto, Modesto, Rossi, Thiago Motta, Vanden Borre
Strikers: El Shaarawy, Jankovic, Olivera, Palladino, Sculli
Comparing to the match against Juventus last week only injured Omar Milanetto is changed by Stephan el Shaarawy. Besides Omar we still miss Scarpi, Paro and Milito.