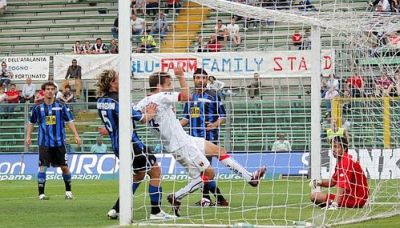 Today Genoa played one the most bad matches of the season, but we had some excuses: at first of course the derby last week. We missed 3 important line-up players with Biava (injured), Ferrari and Motta (both banned) and also our supporters could not support the team today. Genoa started with the excepted 3 very young defenders: Sokratis (20), Bocchetti (22) and Criscito (22) and they saved the match together with goalkeeper Rubinho. After only 9 minutes Sergio Floccari (the newspapers say he already signed a contract with Genoa and plays with us next season) ran towards Rubinho and passed the ball besides to Valdés who could easily score the opening-goal: 1-0.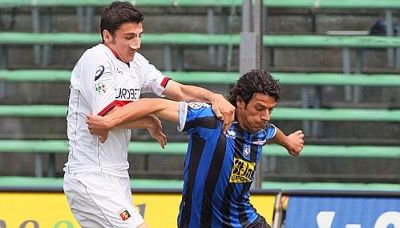 Before halftime Genoa received 3 yellowcards and all 3 players are banned next week against Chievo: Sokratis, Criscito and Mesto. Only Diego Milito was once close to the equalizer in the 45th minute, but Rubinho saved the biggest chance of the first half of Atalanta by Floccari so we could be happy halftime arrived with only 1-0.
In the second half with Rossi and Jankovic in stead of Milanetto and Mesto our team played a lot better. Several chances were missed but in the 90th minute with 11 against 9 (Guarente got a red card after 2 heavy fouls in only 5 seconds and Floccari left the field with an injury after Atalanta already substituted 3 players) our defender Mimmo Criscito enlarged a shot of Diego Milito into the goal: 1-1. In the 3 minutes extra time Genoa tried to win the match, but it ended with the 1-1 draw.
[youtube Vgtaw0tHtIE] 
Because Fiorentina beat Catania on Sicily we are now 3 points behind them on the 5th position in the standings. The advantage to number 7 Palermo is 9 points with only 3 matches to go, so we only need 1 point to be back in Europe after the 1-1 draw at 15th April 1992 in the Amsterdam Olympic Stadium against Ajax.