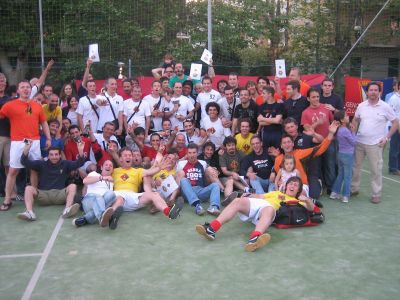 Saturday 16th May the 2nd edition of United in the name of Genoa took place on the fields in the Via Campanella in the Albaro-area of Genova. Not less than 12 teams were present at this friendly international tournament of calcetto:
Red group:
Quelli della scaletta, Un Cuore Grande Cosi, Castelletto, Genoa Club Amsterdam 1       

Blue group:
Grifoni In Rete, Only You, Grifoni Cromati, Grifoni Sbandati
Orange group:
La bella mossa, Noi di Sampierdarena, All Blacks, Genoa Club Amsterdam 2     

Because of the fantastic organisation of Luca Carini and his friends the tournament was a big succes. The second team of Genoa Club Amsterdam reached the 3rd position, while the All Blacks of Toscany did win the final against the Grifoni In Rete. Genoa's defender Mimmo Criscito gave the trophies to the winners at the end of this fantastic sunny day.