What a party !! Today over 29.000 fans celebrated in Luigi Ferraris the return of Genoa in Europe, while also outside the stadium the people changed the city completely into red and blue. Before the match the historical team of Genoa that reached the last qualification to Europe in May 1991 against Juventus was on the field and then the stars of today started their celebration show against Lecce that relegated to Serie B last week.  
Genoa scored 4 times today: Jankovic opened the score before halftime, but 10 minutes after him Tiribocchi scored the equalizer: 1-1. After the tea Criscito and 2 times Milito scored the last 3 goals of the season. Yesterday our topscorer with 24 goals (1 less than Ibrahimovic) wrote an open letter to all Genoa-fans to say that after his adventure with Inter our Diego wants to finish his career in his city Genova with his red and blue family ! Hopefully Diego Milito takes Thiago Motta with him when he returns to Genova.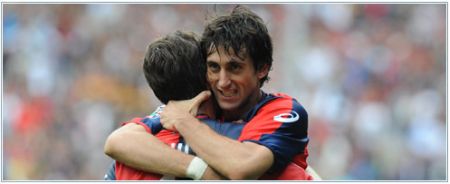 Genoa finished the season with 68 points, a record ! Because of the goal-difference Genoa should be 4th in the standings and qualificated in Champions League, but because of the results against Fiorentina (3-3 and 0-1) that also has 68 points we have to leave the 4th place to them. No problem, it is better to win Europa League in May 2010 then to be out of Champions League in the 1st round, like Fiorentina this season !