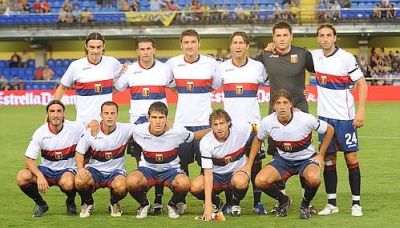 In Spain Genoa has beaten Villarreal, the topteam of Spain that reached the quarterfinals of Champions League last season in which they were beaten by Arsenal. Genoa missed all their international players (including Mimmo Criscito who played his first match in the Squadra Azzura) that played with their national team yesterday. In the 1st half Giuseppe Sculli scored the first goal with a header and just after halftime Hernan Crespo doubled the score. Villarreal scored by penalty their goal: 1-2 and Hernan Crespo missed a penalty that was deserved by captain Marco Rossi 20 minutes before the end. The victory 1 week before the match in Europa League against Odense BK is very important to Mr. Gasperini and his staff after the 0-3 defeat against Olympique Nice 2 weeks ago. 
[youtube wjXEetWHNwM]
In the meanwhile Anthony Vanden Borre was rent to Porthsmouth (Premier league), so this season there is no Dutch or Belgian player in the team of Genoa.