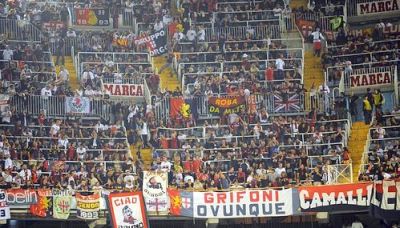 After the most difficult match in Europa League we still can be more proud of our team. Genoa lost the spectacular match in Valencia by 3-2 after a deciding penalty in the 82nd minute. We now are 3rd in the standings with 3 points, 1 behind Valencia and Lille that both have 4 points after 2 matches. The next match is in Lille at 22nd October.
To be honest Valencia was the best team in the first half and it was clear that Genoa missed important players like Biava, Criscito, Rossi and Juric. By surprise the openinggoal in the 41st minute was scored by Sergio Floccari who shot a header of our best player, Giandomenico Mesto, in the net: 0-1. Halftime !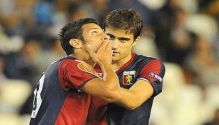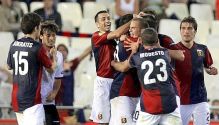 In the 2nd half the expected Spanish storm arrived. Within 12 minutes the score was 2-1 by goals of Silva and Zigic. Everybody who thought the match was over was totally wrong. Genoa returned in the game and deserved a penalty in the 64th minute when Sokratis fell down in the penaltyarea. Houssine Kharja realized the opportunity: 2-2. Of course we all hoped the score wouldn't change anymore, but the expected penalty on the other side of the field arrived in the 82nd minute when Esposito blocked Villa who realized the penalty himselves: 3-2. A defeat after a great match against one of the best teams in Europe. 
[youtube mqkdLIZzgS8]