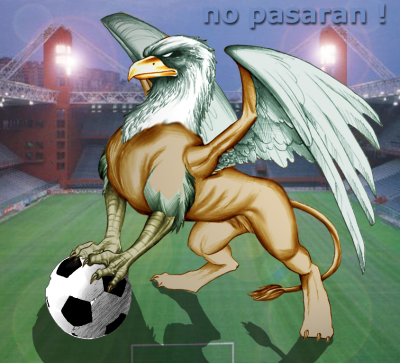 This picture is made by Grifoni in Rete (many thanks !!)
Everybody with a red and blue hart is furious. Both the city of Genova and the president of Sampdoria want to build a new stadium elsewhere in Genova to substitute the famous Luigi Ferraris stadium, home of Genoa since 1933. Italy wants to organize the European Championships in 2016 and Genova wants to be one of the cities that organizes some matches. Because Luigi Ferraris stadium is close to a prison, does not have enough parking-facilities and is located next to the Bisagno-river it should not be good enough to use during the European Championships. Bullshit of course, if you reconstruct the stadium as done before in 1990 and you break down the prison you can construct many parkingplaces behind Gradinata Nord and the stadium is ready to use during Euro 2016.
Fridaynight there is a protest at 21.00 hours in the city-centre and Saturday the Genoa-supporters walk together to Luigi Ferraris to protest against the demolish of our loved stadium. Hands off Luigi Ferraris stadium, home of Genoa since 1933 and monument of the city with the oldest football-club in Italy !!