[youtube xBuh8YxK0ng]
Every Genoa-fan who watched the match last night has become at least 10 years older, but we have beaten Fiorentina. The team of Florence that stole 2 points last year which at the end gave them a place in Champions League. Last year we deserved a lot more to win than this year, but who cares! Now Genoa is on the shared 5th position with Milan.
Genoa missed the line-up players Moretti, Criscito, Juric and Mesto in the field and Mr. Gasperini on the bench in this important match against the purple of Toscany. In the beginning Fiorentina was the best team in the field, but after half an hour Genoa went stronger and stronger. The openinggoal was fabulously scored by Raffaele Palladino with a backwards shot that surprised everybody including experienced goalkeeper Frey of Fiorentina: 1-0, which was also the score at halftime.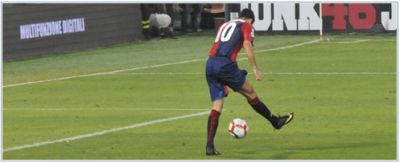 In the 2nd half Fiorentina was the master in the field and after they hit the post twice substitute Marchionni scored the deserved equalizer: 1-1. The joy of the Toscanies lasted only ten minutes when substitute Palacio gave a fantastic assist to the other substitute Mesto who scored easily under Frey: 2-1. After the goal Fiorentina was again the best team in the game, but our defense with goalkeeper Amelia did not break like last year, so this time we beat the rivals of Florence: 2-1.