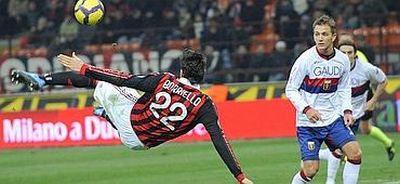 Yesterday A.C. Milan was much too strong comparing to our Gasperini-boys. Also without the help of referee Orsato (3 penalties to Milan and 1 goal scored in off-side) the red and black deserved the victory. Genoa is now on the 12th position in the standings, but we have 1 match less (Genoa-Bari) then most of the other teams.
Genoa started with Criscito as left-defender to substitute the suspended Bocchetti. Already in the 13th minute Orsato gave Milan the first penalty when Ambrosini on purpose fell down over the outstanding leg of Biava. Amelia stopped the penalty of Ronaldinho. In the 25th minute Genoa stole the lead when Giuseppe Sculli headed an assist of Palacio behind goalkeeper Dida: 0-1. The joy lasted only 6 minutes when Orsato gave Ronaldinho a new chance to score a penalty. Again Ambrosini acted very good that Amelia failed him, but for real he already dived with his 2 legs similar against each other in the air before there was any contact.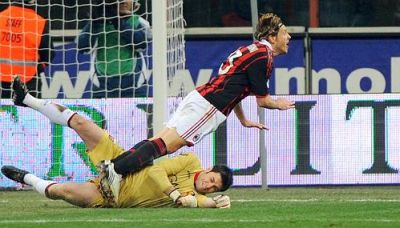 This time Ronaldinho scored the penalty: 1-1. A few minutes after this goal Moretti had to leave the pitch because of an injury which meant the end of the match to him and to the rest of Genoa. With only 1 real defender (Biava) the strikers of Milan were much too strong. Thiago Silva scored 2-1 only 1 minute after Moretti left the field and in the first 15 minutes of the 2nd half our ex-striker Marco Borriello scored 3-1 and 4-1 (fantastic goal, but in off-side). In the 74th minute Huntelaar scored the 3rd penalty of the match, while Suazo scored our second and his first goal in the shirt of Genoa: 5-2.
[youtube oWv-_A2ZFvo]