Yesterday 2 Argentinian goals of Palacio and Crespo gave Genoa a 2-0 victory against Atalanta. Our red and blue boys are now on the 8th postion in the standings with 31 points in 21 matches, 6 points less then last year after 21 games.
Genoa started the match with the experienced defenders: Biava, Dainelli and Moretti. Unless the suspension of Bocchetti we did not take a goal, so the 3 "oldies" did their jobs well, unless the fact all 3 got a yellow card of referee Giannoccaro. After 18 minutes our returned wingstriker Rodrigo Palacio scored the openinggoal after a fantastic assist of Zapater: 1-0. Also after the goal Genoa was the best team in the field, which was completely clear when Crespo headed the 2nd goal behind goalkeeper Coppola in the 42nd minute. With 2-0 the halftime whistle arrived.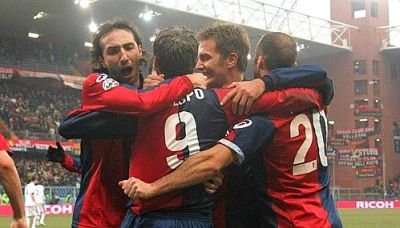 In the 2nd half the Gasperini-boys let Atalanta play in midfield, but Genoa always controlled the match. The referee also saved Atalanta serveral times to close an eye at the moment one of the Lombardian players with a yellow card made another big foul. In the last minutes Crespo was substituted by Suazo who created himself 3 big chances to score his first goal in Luigi Ferraris, but Coppola (twice) and the post stopped him. Next Saturdaynight Genoa plays in Naples against the reborn hometeam.  
[youtube w8M2SPqwKTk]