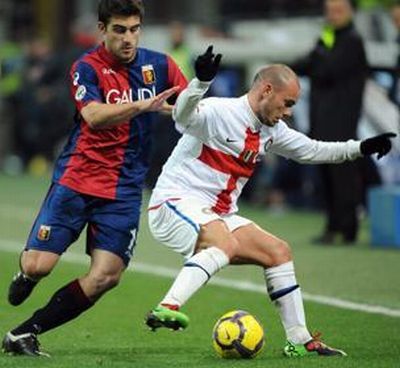 Just as last season Inter could not beat Genoa in their own Giuseppe Meazza stadium. Last year it was Thiago Motta who stopped Zlatan Ibrahimovic c.s., yesterday it was the complete defence of Genoa that stopped the Inter-strikers: Milito, Balotelli, Pandev, Eto'o and Quaresma.
Mr. Gasperini started in the usual 3-4-3 system with Bocchetti in stead of the injured Dainelli and Mesto + Sculli as wingstrikers to support Suazo. Of course Inter was the strongest team in the field, but Marco Amelia was unemployed in the 1st half.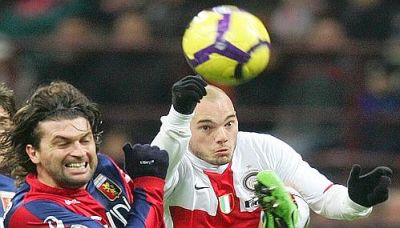 After the break Inter played more agressive and more offensive, but the Genoa-defence was very strong. Inter-coach Mourinho was squalified but tried to help his team in the last 20 minutes from the 1st row in the mainstand. He also brought extra strikers in the field with Eto'o and Quaresma, but nothing succeeded to break the Genoa-defence. On the other side Mr. Gasperini changed Suazo with Jankovic, but our striker already had to leave the pitch again within 10 minutes with a new injury. Despite the problems of Jankovic Genoa kept strong and took 1 point back home: 0-0.
[youtube XxvETT0ET7M]