[youtube 7W6d_2CJBTo]
Sometimes you need your friends to realize your wishes. Because Genoa-fan Claudio Spagnolo was killed by Milan-hooligans in 1995 it is every year very difficult to buy a ticket to this match. Mostly only Genoa seasonticket-holders are welcome in the stadium, but this year also Genoani living in Liguria and officialy registered Milan-fans. Because Milan and their fans never said sorry since 1995 the Genoa-fans wanted to block the visitors-sector of Luigi Ferraris stadium. Because of this the authorities decided Saturdaynight at 23.00 (16 hours before the match) that Genoa-Milan is forbidden to all fans: 25.500 Genoani and 371 Milanisti. I doubted should I enter the stadium with my press-card or should I stay outside together with the 600 Genoa-fans that protested against this crazy decision of the authorities? Because all of these fans wanted only 1 thing: watching the match, I decided to enter the press-sector of the stadium to do what everybody wanted: be present to see Genoa beating the stars of A.C. Milan. And I was lucky, but from the first till the last minute I felt sorry to the fans outside that bought a (season)ticket and should be inside the stadium, just like me!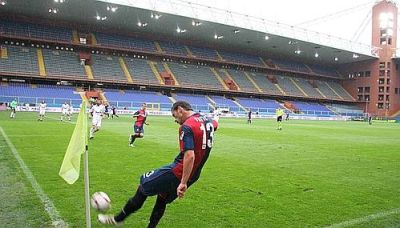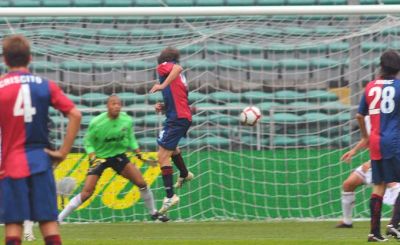 The only positive effect of an empty stadium (while professional football in my opinion always should be played with an audiance) is that you can hear the players and the referee in the field. The game also is more fair, because the public doesn't influence the match and the referee. To be honest Milan was the best team in the first half and we were lucky that the score was still 0-0 at halftime. In the second half Rodrigo Palacio and Mimmo Criscito took the lead in the field, which brought Genoa the openinggoal by Giuseppe Sculli who headed a corner of Fatic behind goalkeeper Dida: 1-0. After the goal Milan tried everything to score the equalizer, but both Borriello and Huntelaar missed great chances. The most close to another goal was our Robert Acquafresca who shot the ball from outside the penaltyarea against the crossbar. Immediately after the last whistle of the referee all the players of Genoa ran outside to stadium to celebrate the victory with the fans that were still protesting and singing Genoa-songs. They deserved it!
With this victory Genoa still is on the 8th position in the standings, 2 points ahead of Parma and 4 of Fiorentina and Bari. The mission of this season: ending at the left side of the standings is now 1 match before the end officially accomplished. Grazie ragazzi!