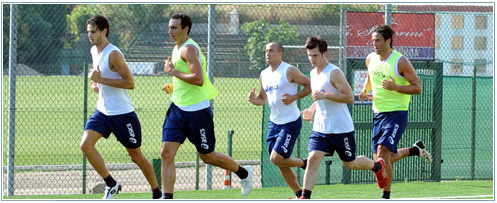 Despite the fact that Mr. Gasperini wants a maximum of 23 players (3 goalkeepers and 2 players for every position in the field) Genoa starts the season with 29 players and maybe another one or two extra midfieldplayers will arrive before Serie A starts in the weekend of 28th and 29th August (schedule will be published Wednesday 28th July). The following 29 players start the new season tomorrow in Neustift (Austria):
GOALKEEPERS: Eduardo (Sc Braga, 1982), *Perin (1992), Scarpi (1973), Stillo (1991)
DEFENDERS: Bocchetti (1986), Chico (Almeria, 1987), Dainelli (1979), **Fatic (1988), Moretti (1981), Polenta (1992), Ranocchia (Bari, 1988), Tomovic (1987)
MIDFIELDERS: Criscito (1986), Kharja (1982), Mesto (1982), Modesto (Bologna, 1982), Milanetto (1975), Rossi (1978), Tachtsidis (Aek Atene, 1991), Vanden Borre (Portsmouth, 1987), Zapater (1985)
STRIKERS: Acquafresca (1987), *Destro (Inter, 1991), **Jankovic (1984), Palacio (1982), Palladino (1984), Rudolf (Debrecen, 1985), Sculli (1981), Toni (Roma, 1977)
The players with * are now in France to play the European Championship of players under 19 years and share the team after the tournament. The players with ** first have to recover their injury in Chiavari before they can share the team.