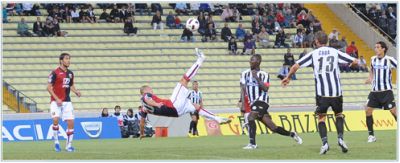 Genoa won the openingmatch of the season 2010-2011 by 0-1 against Udinese. The only goal was scored by Mesto in the 81st minute. A cross of Rafinha was headed by Dainelli to Mesto, but the ball was too high and just below him so he could only try to touch it with a bicycle-kick. Mesto succeeded and the ball went besides goalkeeper Handanovic inside the goal at the far post: 0-1.
[youtube _NpFvi35FUg]  
Genoa started the match with the following players: Eduardo; Rossi, Dainelli, Ranocchia; Rafinha, Milanetto, Veloso, Criscito; Palacio, Toni and Sculli. Unfortunately Luca Toni had to leave the pitch during the 1st half with an injury and was substituted by Palladino. In the 2nd half Mr. Gasperini also brought Zuculini and Mesto in the field. As often Gasperson made the right substitutions with Mesto as the only goalscorer. In the last minutes Genoa played with only 10 players because of the injury of Palladino, but our defense was strong, very strong. The first 3 points are ours !