[youtube nXAacgNEJkQ]
After the unexpected defeat against Chievo there were a lot of rumours in the newspapers. Mr. Gasperini was blamed for his substitution of defender Ranocchia by midfieldplayer Kharja and also our president Mr. Preziosi was not so happy. He spend nearly €50 million this summer and was especially unhappy about the mentality of the players against Chievo. Because of  all of this the team was a little under pressure against Parma. Just as against Chievo our Rossoblu played a fantastic first half an hour. Already in the 2nd minute defender Zaccardo of Parma got a yellow card because he could not stop our forwards regulary. In the 26th minute the same Zaccardo made a handball in the penalty-area and referee Rizzoli whistled for a penalty, but "forgot" to give Zaccardo his second yellow, so red card.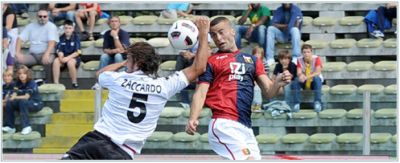 Luca Toni realized the penalty and scored his first goal in the world's most beautiful shirt.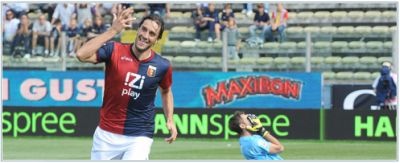 In the 2nd half Parma was the most dangerous team in the field, while Genoa played a lot better then last week. In the 71st minute Zaccardo (the man of the 2 yellow cards!) headed the equalizer behind Eduardo who saved Genoa with an incredible reaction a few minutes later. After all the draw was right, but what if Zaccardo got his deserved second yellow card in the 26th minute ?!