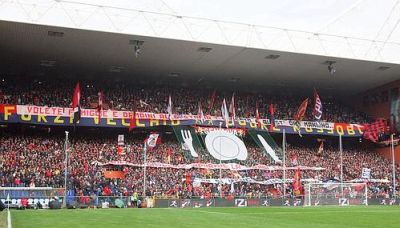 Unless the unusual Italian time of 12.30 hours 30.000 fans came to Luigi Ferraris to see the match between Genoa and Juventus. After Genoa missed the first big chance it was our goalkeeper Eduardo who headed the ball very unlucky in his own goal: 0-1. For a few minutes Genoa was out of the match and Krasic immediately took his chance: 0-2. As every Italian topteam from this moment Juventus only defended the advantage. Genoa hit twice the crossbar by Criscito before haltime and Kharje after the tea, but the score did not change anymore: Genoa-Juventus: 0-2.
[youtube qkBUAsLRNeM]
Wednesday 24th November Genoa beat Vicenza (Serie B) in the Coppa Italia. Just as in the previous round against Grosseto it was Luca Toni who scored the equalizer just before the 90th minute and 2-1 immedialtely after the start of the extra time. A few minutes later also Mattia Destro scored 3-1 and the game was over. In the next round Genoa plays against Inter.