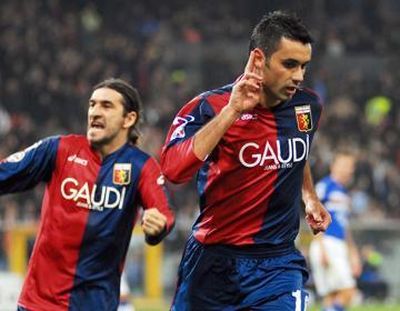 We all knew that Mr. Preziosi is not happy with the results so far this season. Our succesfull coach and friendly gentlemen Gian Piero Gasperini was fired in November and now there is a little revolution going in the selection of players.
Maybe our best player this season, Andrea Ranocchia is sold to Inter that pays € 12,5 million to have our very talented defender. Last summer Inter already spend € 6,5 million to have 50% of Andrea, so Preziosi earns € 19 million and makes a profit of € 14 million in 2 years after paying Frosinone (Serie B) € 5 million in 2008. Let's hope this money will be totally invested in new players.
Raffaele Palladino (rented) and Cicco Modesto (sold) go to Parma and Nenad Tomovic is hired to Lecce. The rumours say that also Houssine Kharja, Franco Zuculini, Gergely Rudolf and probably Mimmo Criscito, Beppe Sculli and Luca Toni will leave Genoa before 31st January. Our topscorer is furious of Mr. Preziosi who gave him in an interview a 3 on a base of 1 tot 10 for his way of playing the first half year with Genoa. Now Luca probably will be the substitute of injured Pippo Inzaghi with A.C. Milan.