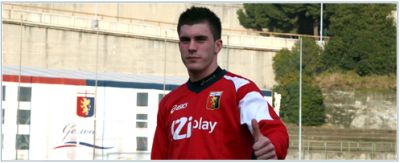 Mr. Ballardini has selected 21 players to book the first victory in 2011 tomorrowafternoon at 15.00 hours in Luigi Ferraris against runner-up Lazio. Inbetween the selection are Enjec Jelenic (Koper) and youngster Sturaro (Genoa-primavera). The complete team that is now preparing in the Sheraton-hotel to play against Lazio:
GOALKEEPERS: 1 Eduardo, 88 Perin, 73 Scarpi
DEFENDERS: 2 Chico, 3 Dainelli, 13 Kaladze, 20 Mesto, 24 Moretti, 4 Criscito
MIDFIELDERS: 11 Kharja, 77 Milanetto, 18 Rafinha, 7 Rossi, 30 Sturaro, 42 Veloso
STRIKERS: 25 Boakye, 22 Destro, 71 Jankovic, 29 Jelenic, 17 Rudolf, 9 Toni
*
Last night Mr. Fabrizio Preziosi has bought the strong 23 years old midfieldplayer of Sparta Prague: Juraj Kucka. The international of Slovakia played at the World-cup last summer against Italy and Holland. Rumours say that also the brother of Diego Milito: defender Gabriël Milito will arrive from Barcelona to substitute Andrea Ranocchia.