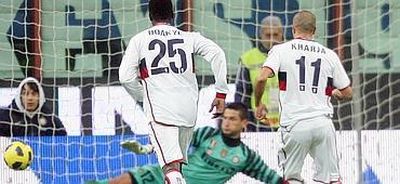 Tonight Genoa lost 3-2 in San Siro against Inter in the 1/8 finals of Coppa Italia. The 2 goals were scored by Kharja (penalty) and Sculli, both in the 2nd half in which Genoa played a lot better than before the break. Man of the match was Samuel Eto'o who scored twice before halftime. Our ex-defender Andrea Ranocchia should be sent off with a red card after his irregular stop of Rudolf. Besides the penalty it also should be red.
[youtube SJACRjJkSpg]
***   ***   ***   ***    ***   ***   ***   ***   ***   ***   ***   ***   ***   ***   ***   ***   ***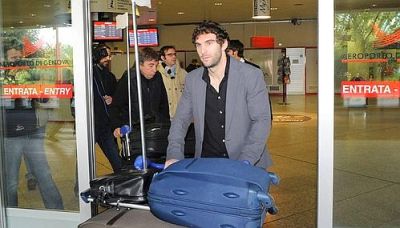 Yesterday-evening it was big news everywhere in the world: Genoa bought two Argentinian strikers with the name Mauro: Boselli and Formica. Now 24 hours later both transfers failed in the last minute. Formica yesterday already left the trainingscamp of Newell's Old Boys in Argentina and was on his way to the airport to fly to Genova when at the last minute the transfer failed because Genoa wanted to pay the transfersum after the medical test and Newell's wanted Genoa to pay before Formica left Argentina. At the same time Genoa agreed with Wigan (Premier League, England) of hirering striker Mauro Boselli the rest of this season with an option to buy him this summer. This afternoon Boselli already arrived in Genova to have his medical test and to sign the contract to be in time to play against Udinese next Sunday. Unfortunately Boselli did not pass the medical test, so also this transfer failed at the last minute. Hopefully the new striker(s) will arrive soon, because in 4 days we play against Udinese.