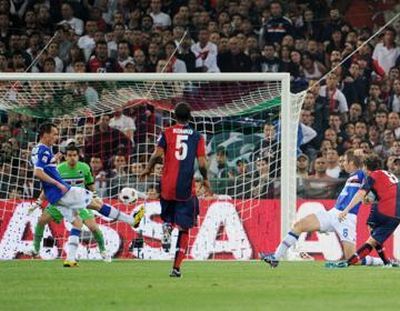 Again a victory in the derby, the 5th in the last 6 editions! The goals of Genoa were scored by Floro Flores in the last minute of the first half and his substitute Mauro Boselli in the last second of the 2nd half. Sampdoria is now close to relegation to Serie B which seems the only escape of many more defeats in the derby the next years. 
[youtube –ofRoaU_pI]  
A derby always starts immediately after the last match before the 2 Genovese clubs play against each other. This time Sampdoria was most of all in the spotlights because the club is in big danger to relegate to Serie B. Because of this the team already went on Thursday for a trainingscamp to Novi Ligure to prepare in silence. After protest of the supporters they got the opportunity to visit the team on Saturday in Novi Ligure. When the Samp-supporters arrived in the mountains around 50 kilometers of Genova they found a red and blue painted trainingsfield with many times "Serie B" on the walls around the complex. Even worse to Sampdoria is the fact that the derby for the first time was not sold out because Samp sold only 8.700 of their 11.000 tickets. With Genoa this never happened in the history and we also had many years at the bottom of standings, even in the years in Serie B.
In the first half Genoa played a little better then Sampdoria and the reward arived in the last minute: a corner of Milanetto was headed by our Genoano of the year Rodrigo Palacio towards Antonio Floro Flores who beat Sampdoria-goalkeeper Da Costa.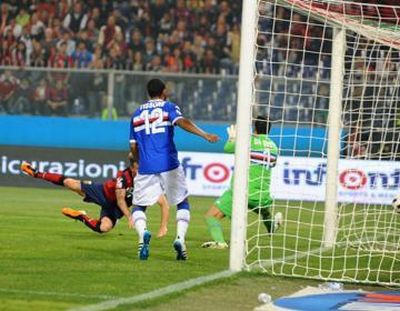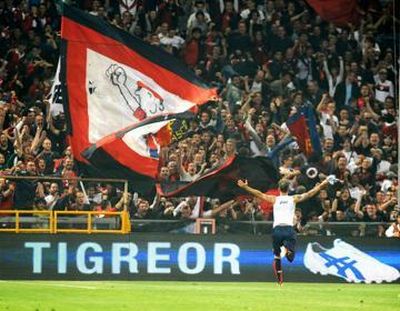 In the second half Genoa played worse and gave Sampdoria the chance to come back in the match. After Eduardo coulden't get control of a shot of palombo it was Pozzi who scored the equalizer: 1-1. It looked like the match would end with this draw, which was very disappointing to the Genoa-fans, but after 96 minutes and 13 seconds it was Mauro Boselli who scored the winning goal, just 17 seconds before the end. Referee Tagliavento immediately ended the match, there wasn't even time to do the kick-off. Genoa now did win 5 of the 6 last derby's, which was impossible to think about a few years ago.