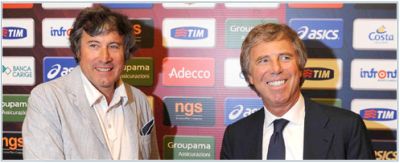 Today Genoa starts the season in Austria with our new trainer Alberto Malesani and the following 26 players, including 15 new arrivals:
Goalkeepers: Lupatelli Cristiano (1978, Bologna Fc), Scarpi Alessio (1973, Genoa), Zima Lukas (1994, Sk Slavia Praga).
Defenders: Antonelli Luca (1987, Genoa), Dainelli Dario (1979, Genoa), Granqvist Andreas (1985, Fc Groningen), Kaladze Kakhaber (1978, Genoa), Krajnc Luka (1994, Maribor), Mesto Giandomenico (1982, Genoa), Moretti Emiliano (1981, Genoa).
Midfielders: Birsa Valter (1986, Aj Auxerre), Constant Kevin (1987, Ac Chievo Verona),Jorquera Cristobal Andres (1988, Csd Colo Colo), Kucka Juraj (1987, Genoa), Merkel Alexander (1982, Ac Milan), Milanetto Omar (1975, Genoa), Rossi Marco (1978, Genoa), Seymour Felipe (1987, Club Universidad de Chile), Veloso Miguel (1986, Genoa).
Strikers: Acquafresca Robert (1987, Cagliari Calcio), Hallenius Linus (1989, Fc Lugano),Palacio Rodrigo (1982, Genoa), Pratto Lucas (1988, Cd Universidad Catolica), Ribas Sebastiàn (1988, Dijon Fco), Rudolf Gergely (1985, As Bari), Zè Eduardo Josè (1987, Santos Fc).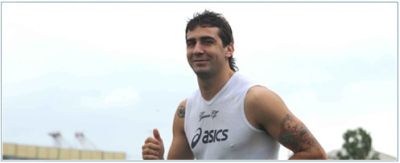 Besides these 15 new players Genoa also bought Andes Escobar (Deportivo Cali, Colombia) but he now plays the World-Cup for players till 20 years. This week also Ajax-player Evander Sno was in Genova to sign a contract with our team, but he did not pass the medial tests because of his hart-problems.
The following 14 players left us this summer: Eduardo (Benfica), Perin (Padova), Chico (probably Betis Sevilla), Criscito (Zenit St. Petersburg), Konko (Lazio), Rafinha (Bayern Munich), Boakye (Sassuolo), Boselli (Wigan), Destro (Siena), Floro Flores (Udinese), Jankovic (not known yet), Jelenic (Padova), Paloschi (Milan) and Rodriguez (Bologna).