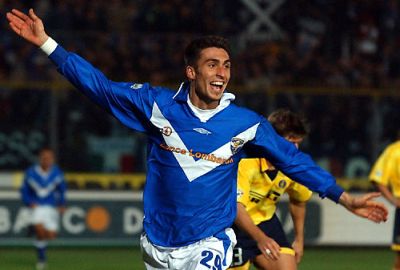 The whole summer it seemed that Alberto Gilardino of Fiorentina would be our new central-forward. Mr. Preziosi already had an agreement with the player and because of the bad relation between Gilardino and Fiorentina the transfer for everybody was only a matter of time. Unless an offer of € 10 million and Houssine Kharja Fiorentina refused to let Gilardino go to Genova, so Mr. Preziosi at the end of the transferperiod had to buy another central-striker: the 29 years old Andrea Caracciolo of Brescia who scored 12 times in Serie A last season unless the relegation of Brescia. The 1.94 meters tall player with the nickname: Heron has to battle with Pratto and Zé Eduardo to be in the line-up.
During the handover of the trophy Genoa Club Amsterdam Genoano of the year we heard that Rodrigo Palacio would stay the rest of his contract that ended in June 2013 with Genoa and afterwards he would return to Argentina. This summer Inter did everything to buy Rodrigo Palacio and at the last day of the transferperiod they offered € 10 million to Mr. Preziosi who refused. Rodrigo Palacio stays with Genoa and last week he enlarged his contract with 1 extra year till June 2014.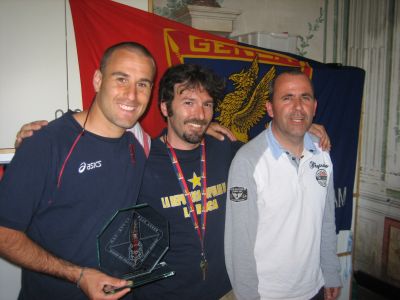 The strike of the players in the Serie A is over. Lega Calcio and the players union made a temporarely deal to the summer of 2012 which means that the new season start at Friday 9th September with Milan-Lazio. Two days later on Sunday 11th September Genoa starts in Luigi Ferraris against promoted Atalanta. The first half the stadium will be completely silent to protest against the players-strike 2 weeks ago at the 1st round of Serie A.