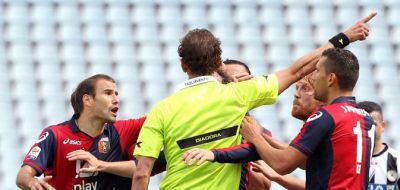 The result of the match Udinese-Genoa 2-0 is a normal result knowing that Udinese is 3rd in the standings and trying to reach Champions League and Genoa is struggling against relegation. If you know that Genoa played 52 minutes with only 9 players the result is less usual. Already in the 5th minute Juraj Kucka got his first yellow card after a heavy foul. In the 29th minute our nervouse midfieldplayer stepped accidentily on the heels of Fabbrini which resulted in his second yellow card. Genoa with 10 players and a free kick to Udinese that was scored by Di Natale: 1-0. In the 36th minute Rodrigo Palacio was close to the equalizer and 2 minutes later he screamed "bastard" towards our own defender Emiliano Moretti. Referee Tagliavento thought (or wanted or hoped) that Palacio screamed to him and gave Rodrigo a red card. Nobody could believe it and also Udinese-coach Guidolin (!) protested against this completely wrong decision but Tagliavento and the "fourth man" did not want to listen to anybody. In the second half De Canio substituted Granqvist who would also be squalified after a yellow card and Udinese scored a 100% regular goal that was annulated by Tagliavento. Nobody knows why, but curiously enough Udinese didn't protest against this completely wrong decision. In the 66th minute our ex-player Antonio Floro Flores scored the 2-0 and the match was over.
Today Genoa wanted to protest against the squalification of Palacio but the protest was immediately refused. Tagliavento has to whistle matches at Euro 2012, but let's hope for the football that Uefa will substitute him for a real and honest referee. Rodrigo Palacio did not scream "bastard" to him, but if so he was very, very right!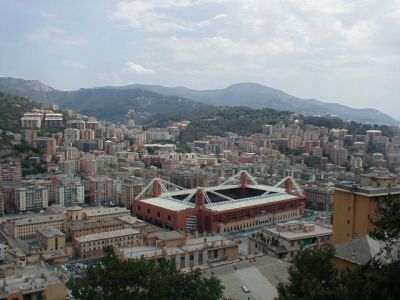 Genoa plays the last match next Sunday-evening at 20.45 hours in Luigi Ferraris stadium. Let's hope mama Ferraris helps us to earn the last point to stay in Serie A!