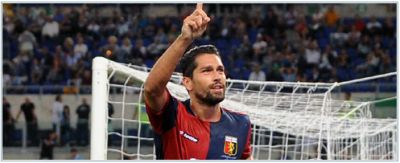 Unless the good position in the standings Mr. Preziosi (again) bougth and sold many players in the winter transferperiod. Mr. Gasperini lost and welcomed 8 players:
NEW (substitute of):
22 Marco Borriello, A.S. Roma (Alessandro Matri, Juventus)
11 M'baye Niang, A.C. Milan (Ioannis Fetfatzidis, Chievo)
19 Leonardo Pavoletti, Sassuolo (Mauricio Pinilla, Atalanta Bergamo)
20 Alberto Facundo Costa, Spartak Moscow (Leandro Greco, Hellas Verona)
18 Zakarya Bergdich, Valladolid (Luca Antonelli, A.C. Milan)
93 Diego Laxalt, Empoli (Stefano Sturaro, Juventus)
41 Lorenzo Ariaudo, Sassuolo (Aleandro Rosi, Fiorentina)
  2 Alassane Tambè, Kortrijk (Franco Mussis, Copenhagen)
Of course it is a pity that our captain Luca Antonelli leaves our club after 5 years to the team of his youth: A.C. Milan and it would be better if Alessandro Matri and Stefano Sturaro stayed with us till the end of the season. On the other hand we have fantastic new players like Marco Borriello, M'baye Niang and "Tino" Costa. Only the results in the field can tell us if we are improved or not this tranferperiod.