From this week we start a new item to let the Genoa-fans outside Italy know more of the Rossoblu players. We start with our captain and Genoa Club Amsterdam player of the year 2004-2005: Marco Rossi.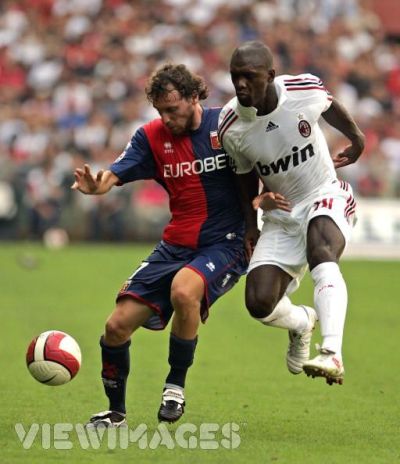 Marco is born on the 1st of April 1978 in Seravezza, which is in North-west Toscany in the regio Lucca. Marco started his professional career in Serie B in the season 1995-1996 with Lucchese, the team of the city of Lucca. After 3 years he moved to the south of Italy to play in Serie A with Salernitana. The second year in Salerno Rossi had to play in Serie B because the team relegated in his first year. This fact let him decide to return to Toscany and Serie A with Fiorentina. After 2 years in Serie A in the summer of 2002 the purple team was bankrupt and Italian Football Association let the team start again under the name Florentia Viola in Serie C-2. Marco again did not want to play outside Serie A, so he was happy that president Enrico Preziosi of the promoted team in Serie A: Como bought him. At the end of his first season in Como, president Enrico Preziosi moved to Genoa in Serie B and he took Marco with him.
In his first year (2003-2004) with Genoa, Marco played 38 games and scored 8 goals, a lot as midfielder in Italy. In the summer of 2004 Enrico Preziosi and Marco had some problems with the new contract of Marco, so our red midfielder only played in the second half of the season when the problems were solved. Marco played 16 fantastic matches and scored 3 goals, always when the Dutch members of Genoa Club Amsterdam were present in the stadium. Because of this fact and also because Marco stayed with Genoa in the season 2005-2006 in Serie C-1 after the punishment of the Italian Football Association because of the match Genoa-Venezia we chose him as Genoa Club Amsterdam Genoano of the season 2004-2005.
In Serie C-1 Marco again scored 3 times in 33 matches and after the play-offs against Salernitana and Monza the red an blue team was back in Serie B. Last season Genoa and Marco (together with substitutes Alessio Scarpi and Cristian Stellini) promoted for the third time in a row, bringing us back in Serie A after 12 long years. Genoa's trainer Mr. Gasperini changed fast and offensive midfielder Marco into an allround player that can play on every position at the right side of the field. This year Marco is also the captain of our team, while he already was the second captain behind Stellini last year.