After days of rumours, tonight it was finally official: 20 years old Belgium international (17 matches) Anthony Vanden Borre plays the next 6 months with Genoa, while Papa Waigo has to wear the purple shirt of Fiorentina the rest of this season. Of course as the official Genoa-supportersclub in Belgium (and Holland) we are very proud and happy that again a player of our countries plays with Genoa.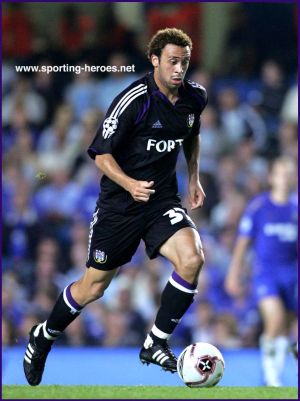 Anthony Vanden Borre (1.85 x 78 kg) is born on 24th October 1987 in Linkasi (Congo) with a Belgium father and a Congolese mother that died last year. As football-player he raised in the youth of Anderlecht together with his friend Vincent Kompany who changed Anderlecht into HSV Hamburg in the summer of 2006. Anthony was selected at the age of 16 (!!) to the Belgium National team after only 5 matches in the first team of Anderlecht. On 28th April 2004 he played his first match with the Belgium National team against Turkey. As usual it is not easy to act normal if you are such an important football-player at such a young age and Anthony got some problems with his attitude.
After 69 matches in 4 years with 3 national titles he left Anderlecht last summer. The Belgium club did everything to keep the great talent in Brussels, but Fiorentina payed around € 3,8 millon and Anthony moved to Florence. The multi-functional player (right-defender, right-midfieldplayer, defensive midfielder) only played 5 matches (2 in Serie A, 2 in Uefa-Cup and 1 in Coppa Italia) in the viola-shirt. With Genoa he probably can raise as fast as in the beginning of his career. Mr. Gasperini is an expert in making young players very good in a short time, so it is a good move for both Anthony and Genoa. Welcome at the most beautiful football club in the world: Anthony Vanden Borre.
Today the transferdocuments of Matias Masiero arrived from Uruguay, so our new number 10 is, just like recovered Danilo, one of the 20 players that is now in the Sheraton hotel near the airport of Genova to prepare themselves for tomorrow's match against Atalanta Bergamo. Not selected are: Bega, Coppola, Di Vaio, Leon and the arrivals of this week: Wilson and Vanden Borre.