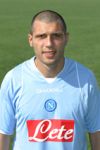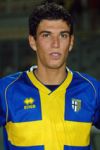 After our central-defenders Bovo (Palermo) and De Rosa (end of contract) left Genoa, Mr. Gasperini and his staff are searching to find 2 substitutes. Youngster Bocchetti is the first arrival, so the second one should be more experienced.
The first candidate is Maurizo Domizzi, the central-defender of Napoli who wants to return to the North of Italy because of his family. Untill now Napoli asks too much money, but today the old team of Maradona went without Maurizio to the trainingscamp in Austria. Maybe this is a sign that the transfer is nearby.
The second candidate is Dario Dainelli, the tall and experienced captain of Fiorentina. This year Fiorentina wants to make the step to the top of Europe and they think they need a new central defender with more international experience. At the moment Fiorentina contracted their international player they sell Dainelli. 
The last option is Marco Rossi, indeed the player with the same name as our captain. The young defender plays with Parma that relegated to Serie B last season and the youth-international wants to stay in Serie A. Maybe Marco Rossi can be changed with Leon because our forward is very popular with Parma.