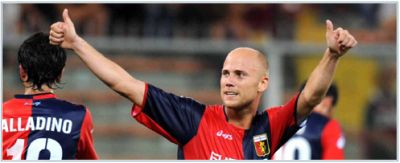 Can Lucho Figueroa ever be as good as before his heavy injury on the terrible 5th March 2006 ? Only 9 months before his injury in June 2005 he scored 4 times with the national team of Argentina in the Confederations Cup in Germany: 3 against Australia and 1 against Mexico. Till March 2006 Lucho played 15 times in the blue and white Argentinian shirt, scoring 9 goals. In the summer of 2006 Mr. Enrico Preziosi bought the player that was owned by both Villareal (Lucho made the first Champions League goal ever of this Spanish club) and River Plate (the team of Buenos Aires where he got injured). Of course Preziosi took a big risk, but if Lucho ever would be as good as before …
In the season 2006-2007 Genoa played in Serie B and Lucho again was operated in October 2006 because the knee reconstruction in March had not been completely successful and further surgery was nescessary. All of this meant that Figueroa did not play a single minute that season. After the promotion to Serie A in the summer of 2007 also Lucho came back to the top. In the homematch against Fiorentina on 28th October 2007 he made his debut, substituting Marco Borriello and a few weeks later on 9th December 2007 he scored his first Genoa-goal in Luigi Ferraris against Siena. In the season 2007-2008 Lucho played a total of 796 minutes in Serie A and scored 3 times (besides Siena, also at home against Atalanta and in Palermo).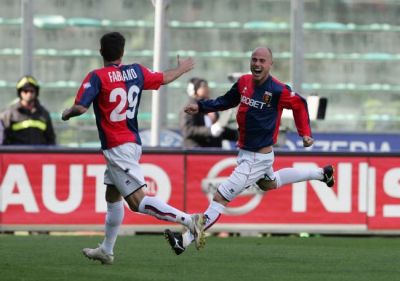 Besides his heavy injury (and probably the dead of his brother), Lucho is also loved by the Genoa-fans because he is always incredibly friendly. We all hope the season 2008-2009 will be his season, so everybody was in shock the last weeks when the newspapers told day after day that Figueroa would be sold if he did not return immediately at the top. Lucho was under high pressure and so far he only scored once against Acqui Terme and a penalty against AZ Alkmaar, while his concurrent Olivera already scored 11 goals. The newspapers said that tonight would be his exame and Lucho graduated being the best student of the school. After the first goal of Gasbarroni, Figueroa scored the 2nd (overhead kick), 3rd (penalty) and 4th (header) goal, while he also hit the post in the 89th minute after which Potenza could score easily the final 5-1 against Albese. Mr. Gasperini and the supporters always kept the faith in Lucho and in a few weeks the whole world knows why ! Forza Genoa, Forza Lucho !