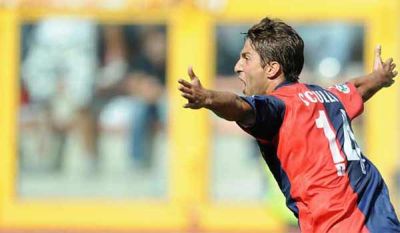 The last victory of Genoa against Milan was in 1984, so 24 years ago. This year Milan has 3 former winners of the golden ball for the best football-player of the world in the team: Kaka, Ronaldinho and Shevchenko and all 3 started in the line-up against Genoa. Milan lost 2 weeks ago the first match of the season against Bologna and Genoa lost 1-0 in Catania, so both teams had to win yesterday. Mr. Gasperini started with the returned son Diego Milito inbetween Sculli and Gasbarroni as strikers. 
With almost 29.000 Genoa-fans in Luigi Ferraris stadium (Milan-fans were banned because they killed Claudio Spagnolo 13 years ago) our red and blue boys started very agressive against the big names of Milan. Immediately Genoa was the best team in the field with Gasbarroni as the most dangerous player who completely made Italian-international Zambrotta crazy. In the 30th minute Diego Milito played the ball with his breast towards Giuseppe Sculli who kicked the ball in the left-corner behind goalkeeper Abbiati: 1-0, which was also the score at the moment Rocchi whistled 3 times.
At halftime Ronaldinho and Shevchenko were substituted by Seedorf and our topscorer of last year Borriello. It must be said: in the second half both teams were equal, with Gasbarroni still as the best player in the field. Sculli missed 2 great chances to decide the match definitively, but on the other side Rubinho saved shots of Borriello and Pato. In the 90th minute Milito played the ball in the penalty-area besides captain Paolo Maldini who kicked his legs out of frustation. Referee Rocchi did the only thing he could do: whistle for a penalty. Milito scored the penalty: 2-0, game over !